We're featured in the Dublin Inquirer today, click here for full article, about our upcoming screening this Friday October 2nd of In Doubt: The Mark Marku case.  It's an interview with film maker Aoibheann O'Sullivan, as well as our founder and director, David Langwallner.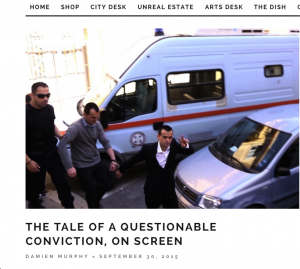 The media coverage Mark's case has gained lately is absolutely fantastic! The voice of the media is sometimes stronger than one thinks, and hopefully this will put some pressure on the situation to be resolved.
Mark's wife Julie very bravely spoke at the Conference on June 26th this year, about how this traumatic event has affected both their lives. If you'd like to know more about Mark's case make sure you come along this Friday for the screening of the film as well as a Q/A session after. You'll find all the information you need about the free and open event on the poster below, or in the previous blog post.